ABOUT
THE SCHOOL
School Life
Is it meaningful to study if you don't have a clear goal?
During your six years at Saint Joseph, we'll equip you with the skills to help you discover the goals which will guide you through life.
Acquiring Grace and Intelligence
Cherishing our Unchanging Traditions
We live in a rapidly changing and uncertain age. What can we do to live happily in such times?
The answer lies in learning what is important in life while abiding by our own unchanging principles.
Since our earliest days, we at Saint Joseph have educated sutudents to become women of grace and intelligence.
These qualities become part of every student's character. By acquiring these principles, every student is able to discover her true self.

An Honest Heart, a Strong Heart, a Beautiful Heart
Based on the teaching and values of Christianity, Saint Joseph educates each one of our students to become an independent young woman.
We strive to nurture students who:
use their God-given intelligence
are resolute in the face of difficulties
are kind and considerate to others
Both in and out of the classroom, our goal is to develop students who display these values in equal measure in their daily life.
The Christian teaching of "Light of the World, Salt of the Earth" is a philosophy of devoting oneself to others and working for the good of society.

The Smallest of Deeds Can Make the Biggest of Differences
We nurture students' empathy for others and help them grow in kindness.
Our students carry books and other heavy items for teachers going to and from classes. At the start of class the "door girl" welcomes the teacher to the classroom. Of course, after class she sees the teacher off with a smile. These acts are not favors asked occasionally, but are the natural result of the students' own thoughtfulness and are an integral part of daily life here at Saint Joseph.
This kind of attitude naturally extends to our volunteer activities. Our students all experience the joy of helping others.
Walkathon
Since 1986, Saint Joseph students have participated in a volunteer activity called the "Walkathon". The first Walkathon raised funds for needy people in India, Peru and Nicaragua. More recently, we have raised money for Chernobyl, the Philippines and Sierra Leone, as well as people affected by the Great East Japan Earthquake in 2011. These fund are used to buy vital medicines and provide education for those most in need.
Our many volunteer clubs
Like all schools in Japan, we have sports and culture clubs, but unlike many Japanese schools we also have clubs geared towards spiritual development.
Religious and Volunteer clubs of Saint Joseph:
YMG (Yorokobi wo Motarasu Group – "Bring Joy to Others" Group)
Budo no Kai
Handbell Club
Wings of Friendship
Interact Club
Soroptimist International S-Club

Bringing the World Closer
By learning English our students become more internationally-minded and learn to see the world through new eyes. In the process of learning English they can discover more about Japan and discover a sense of self.
English is an integral part of life at Saint Joseph. Our native speaker teachers are always available for students to talk with, both inside and out of the classroom. Students do not need to worry, as we encourage them to use English to communicate their thoughts and feelings in whatever way they can. This is where good communication begins. By using English in this way every day, without realizing it, it becomes their own.

Using English Every Day Makes it Come Alive
When participating in their first study trip overseas and talking with their host family, our girls are always so happy to be able to communicate in English. This provides tremendous motivation for English study. We offer the students several oppotunities to experience homestays overseas, as well as encouraging them to take the nationally-recognized Eiken Test in Practical English Proficiency. We also provide opportunities for our students to enter overseas universities. All of these allow our students to achieve their English study goals.
On a day-to-day level, many of our homeroom classes are carried out in English, and of course our English classes are conducted entirely in English, both those taught by native speakers and those taught by Japanese teachers of English. There are limitless opportunities for our students to listen to and use English in their daily life. Moreover, many of students take part in activity called "Let's Enjoy English", where they visit nearby elementary schools and teach a fun English lesson to the students there. This is entirely carried out in English, of course. This experience gives our students great confidence in their ability.
Overseas students in class
Every year we are pleased to host overseas students from a variety of English and non-English speaking countries. Our Japanese students can often be seen chatting with our overseas visitors, strengthening their international ties. In recent years we have welcomed students from the USA, Canada, Australia, Garmany, New Zealand, France, Slovakia, Finland, Thailand, Taiwan and Singapore.
Sister School
Our school was founded by the Sisters of Saint Joseph of Carondelet, and this Congregation has six high schools and five universities across the United States. We have made pledges of cooperation with the eleven institutions shown below.
Students and teachers from these schools often visit us, and our students and teachers visit them in the USA.
High School
Carondelet High School(USA)
St.Mary's Academy(USA)
Saint Joseph High School(USA)
Academy of Our Lady of Peace(USA)
St.Joseph's Academy(USA)
St.Teresa's Academy(USA)
PAREF Woodrose School(PH)
St.Mary's College(NZ)
Universities
Fontbonne University(USA)
Avila University(USA)
Mount St.Mary's University(USA)

Building Yourself Over 6 Years
The six years of education at Saint Joseph nurture our students' grace and intelligence.
Our girls have many opportunities to get to know and appreciate other students throughout the school, regardless of year group.
They form friendships with girls both older and younger than themselves.
In English classes they are streamed into groups according to their academic level.
This allows students to proceed at a pace best suited to their ability, and has the added benefit of allowing them to become friends with students outside their own homeroom.
Our school has a system of "sistership" in place, where older students mentor younger students by showing them that their seniors support them, but is also a wonderful opportunity for the older students to experience the joy of teaching and supporting someone who needs their help.

Flourishing in an All-Girls Environment
Our beautiful surroundings and the seasonal changes they display enrich our students' lives and encourage their compassionate sensibilities. Because Saint Joseph is an all-girls school, our students are able to grow in confidence and explore their leadership abilites. Opportunities include the school sports day (Josephimpics) and the Christmas Carol Singing Contest.

Our School's History
Our school was founded by the Sisters of Saint Joseph of Carondelet.
This Congregation originated as a small group of Catholic nuns in 1650 in Le Puys, France.
In 1836 a group of these nuns emigrated from Le Puys to Saint Louis, Missouri, in the United States.
There, they founded the mother house in a small suburb of Saint Louis called Carondelet.
Now, the Sisters can be found not only in the American continent, but also in Japan, Peru, Chile and Uganda.
There are now 1200 Sisters in the Congregation worldwide.
In 1956, in response to a request from the Govermor of Mie, Mr.Satoru Tanaka, four Sisters came from America with the aim of establishing a mission school in Tsu.
One of these Sisters, Sister Irmina, founded our school, with the objective of instilling within each student a noble character, a clearly definedsense of morals and a broad world view.
The high school was established in 1959, with the junior high school following two years later in 1961.
1956
Four Sisters arrive in Japan from America.
1959
Saint Joseph Joshi Gakuen Senior High School is established. The founder, Sister Irmina bedomes the first Principal.
1961
Saint Joseph Joshi Gakuen Junior High School is established.
1965
Sister Shelia Marie become the school's second Principal. Saint Joseph is the first school in Mie prefecture to use an audio system in English lessons.
1968
Sister Barbara Mary becomes the school's third Principal.
1977
Sister Miki Nakatsu becomes the school's fourth Principal.
1984
First America Study Trip
1988
The YMG club win the Chunichi Bluebird prize.
1989
The school receives an award for volunteer work from the Minister for Health and Welfare (and future Prime Minister of Japan) Junichiro Koizumi.
1991
The current school uniform is introduced, including a checked skirt.
1993
First Australia Study Trip
1995
The school's S-Club is certified by the International Soroptimist Mie Iris.
1998
The school's volunteer clubs win a national prize at the National Youth Volunteer Group Contest.
2001
First Canada Study Trip
2008
Extensive earthquake-proofing work is carried out in the school buildings.
2009
50th anniversary of the school's founding.
2010
Sister Midori Saito becomes the school's fifth Principal.
2011
First Los Angeles Study Trip
2012
Sister school agreements with Saint Joseph High School, USA and PAREF Woodrose School, Philippines
2013
Sister school agreements with St. Joseph's Academy, St. Teresa's Academy, Avila University, Fontbonne University (all USA)
2014
Sister school agreements with Carondelet High School, Academy of Our Lady of Peace, St. Mary's Academy, Mount Saint Mary's University (all USA)
First New Zealand Study Trip
Karate classes initiated
2015
UNESCO School status accepted, leading to incorporation of Education for Sustainable Development (ESD) activities
Sister school agreement with St. Mary's College, New Zealand
First Taiwan Study Trip
First visit to Japan by students from PAREF Woodrose School
2016
Foundation of Saint Joseph Joshi Gakuen Support Group
Student participation in G7 Ise-Shima Summit as foreign language guidance volunteers
2017
Cooperation agreement with Tsu City for the advancement of English education
The school wins a bronze prize at the national High School Volunteers Awards
2018
Tomoko Iseki becomes the school's sixth principal
Chair of the Board of Directors Sister Miki Nakatsu is awarded a medal for distinguished service in education
2019
60th anniversary of the school's founding commemorated with mass and ceremony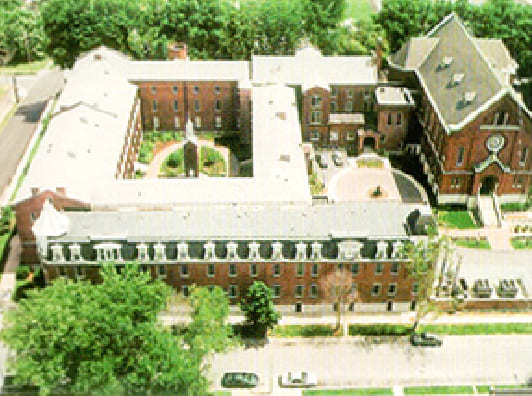 The Mother House in Saint Louis.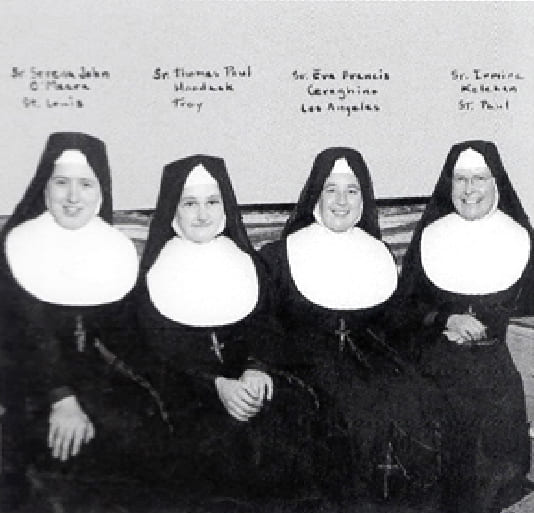 The first Sisters to arrive in Japan.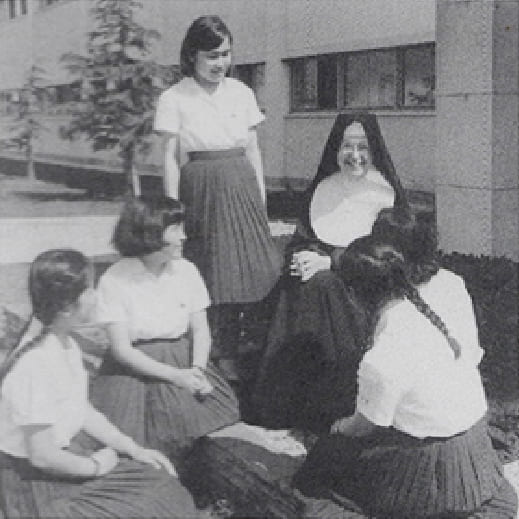 Sister Irmina with Students.